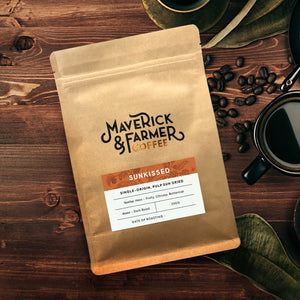 Sunkissed
Rs. 420.00

Rs. 420.00
Tax included.
---
---
Sunkissed is our honey sun-dried coffee. While naturally processing the coffee, we leave a lot of the fruity pulp on the bean and allow it to mellow out in filtered sunshine for a week or so. The fruitiness from the pulp gets into the bean and creates a fruity, citrussy cup. Sunkissed is an award-winning specialty Robusta.
Bean: Robusta
Process: Honey Sun-dried
Roast Profile: Dark, just past the first crack.
Tasting notes: Fruity, citrus, buttercup.
---
We Also Recommend