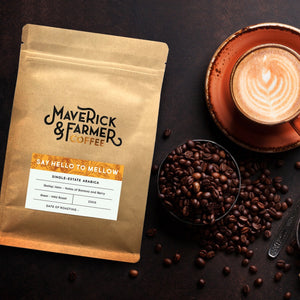 Say Hello to Mellow
Rs. 460.00

Rs. 460.00
Tax included.
---
---
Say Hello To Mellow is a mild roast / light roast coffee that's truly bright and beautiful, and works perfectly as a black coffee or a light cappuccino / latte. This single estate arabica is a fully washed coffee, enabling a completely clean cup that allows all the geo-characteristics of the beans to shine through. Like all arabicas, this coffee has a nice, refreshing mouthfeel to it. 
Say Hello To Mellow has notes of Banana and Berries. 
Best way to brew this? Pour-over or any other method where contact time with water isn't too much. But If you want to increase boldness in your brew, French Press or even a simply Channi (steel strainer) works fabulously. Say Hello to your mornings that just got better!
---
We Also Recommend